Pearson Park Arch Highly Commended in the 2022 Civic Trust Awards
---
Written by
SG Team

Date
03 Feb 2022
The Pearson Park Arch was Highly Commended in this year's Civic Trust Award AABC Conservation Awards. One of only 7 successful National projects will either receive an Award or be Highly Commended. The award recognises projects that demonstrate "the highest standards of historic building conservation". The awards ceremony will take place on 9th March 2022.
The restoration of the magnificent arch was part of the Pearson Park £3m Hull City Council and National Lottery Heritage Fund restoration project completed in 2020, led by Southern Green who acted as lead consultant and contract administrators.
The cast iron arch which formed the grand entrance to the park was made by Young & Pool in 1863, but during the early part of the 21st century had fallen into disrepair and was in a dangerous state by 2019. Using the original drawings, Hugh Massey Architects drew up the detailed restoration proposals which included the recreation of historic features such as the sturgeon and city shield, as well as the reinstatement of railings and gates, and the introduction of bollards and granite sett paving to enhance the setting of the structure.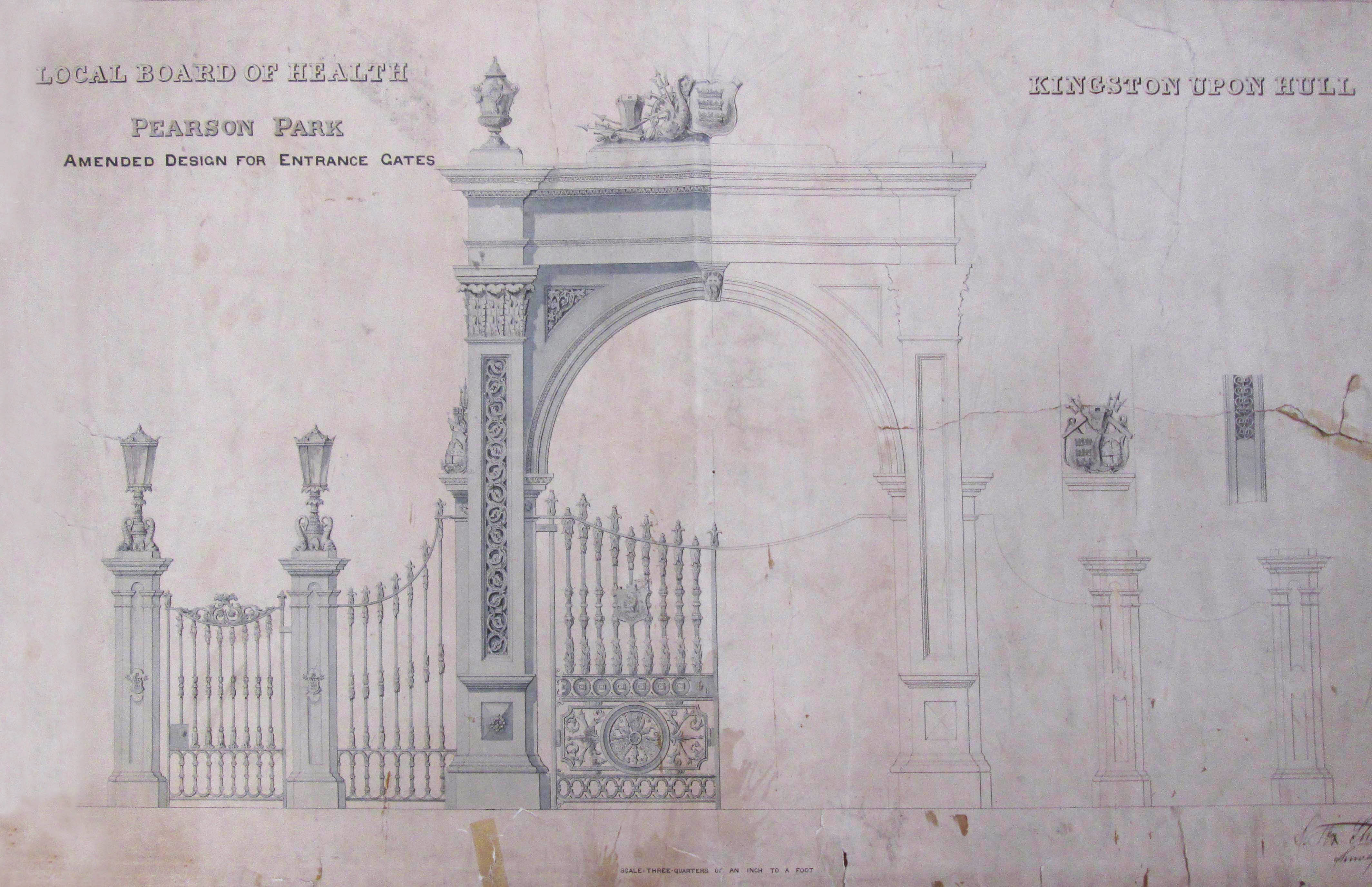 Detail from the original design for the entrance arch, showing lost features on the top of the arch and pillars.
The arch is Grade II listed and forms a critical element of the city's and region's character and history. Its identity as a celebratory arch also revives the memory of Hull's prosperous, industrial maritime history, which was captured in the detail in the restoration process. The choice of material and colour scheme also reflected the Victorian era and industrial times.
The £470k restoration work was executed with meticulous detail by cast iron restoration experts, Lost Art, who have been responsible for a number of other significant projects across the UK including bandstands at South Marine Park, South Shields and Cassiobury Park Watford as well as the Ross Fountain in Edinburgh.
Click on these links to find out more about the award nomination and Pearson Park:
Hull News – Pearson Park Arch Shortlisted for National Awards
About the Civic Trust AABC Conservation Award
National Lottery Heritage Fund
Photograph copyright ©HMA