---
Written by
SG Team

Date
06 Dec 2021
With the 2021 planting season in full swing and the winter solstice just round the corner, this week our team at Southern Green have been sharing winter plant knowledge and researching species suitable for this time of year. With many of our clients asking for winter colour within their projects briefs, we have been focussing specifically on the range of plants that can brighten up even the darkest of dreary winter days.
Our in house expertise of horticulture and extensive plant knowledge is something we are extremely proud of at Southern Green. To ensure we are always expanding, developing and cultivating our knowledge, we undertake a programme of in house plant ID sessions throughout the year. We find this is not only a great way to informally share knowledge, but also an opportunity to discuss and explore individual experiences, favourite species and learn about their unique attributes. These sessions form a vital part of our annual commitment to continuous professional development.
There are a number of well known 'go to' species which are reliable for most situations. Evergreen shrubs may lack the seasonality of herbaceous perennial species, but they certainly have their place and can provide much needed winter structure within a planting scheme.
A well-known Christmas favourite is the native holly (Ilex aquifolium). The vibrant red berries, which are synonymous with Christmas, not only make a wonderful addition to table decorations and wreaths, they more importantly provide a much needed source of food for birds and small mammals during the winter. This plant has a number of useful attributes throughout each season, with the flowers offering a fantastic source of nectar and pollen, and the leaves which provide protection for hibernating mammals and nesting birds. Did you know, in mythology the holly tree is a symbol of fertility, as well as a charm to fend off witches, goblins and the devil.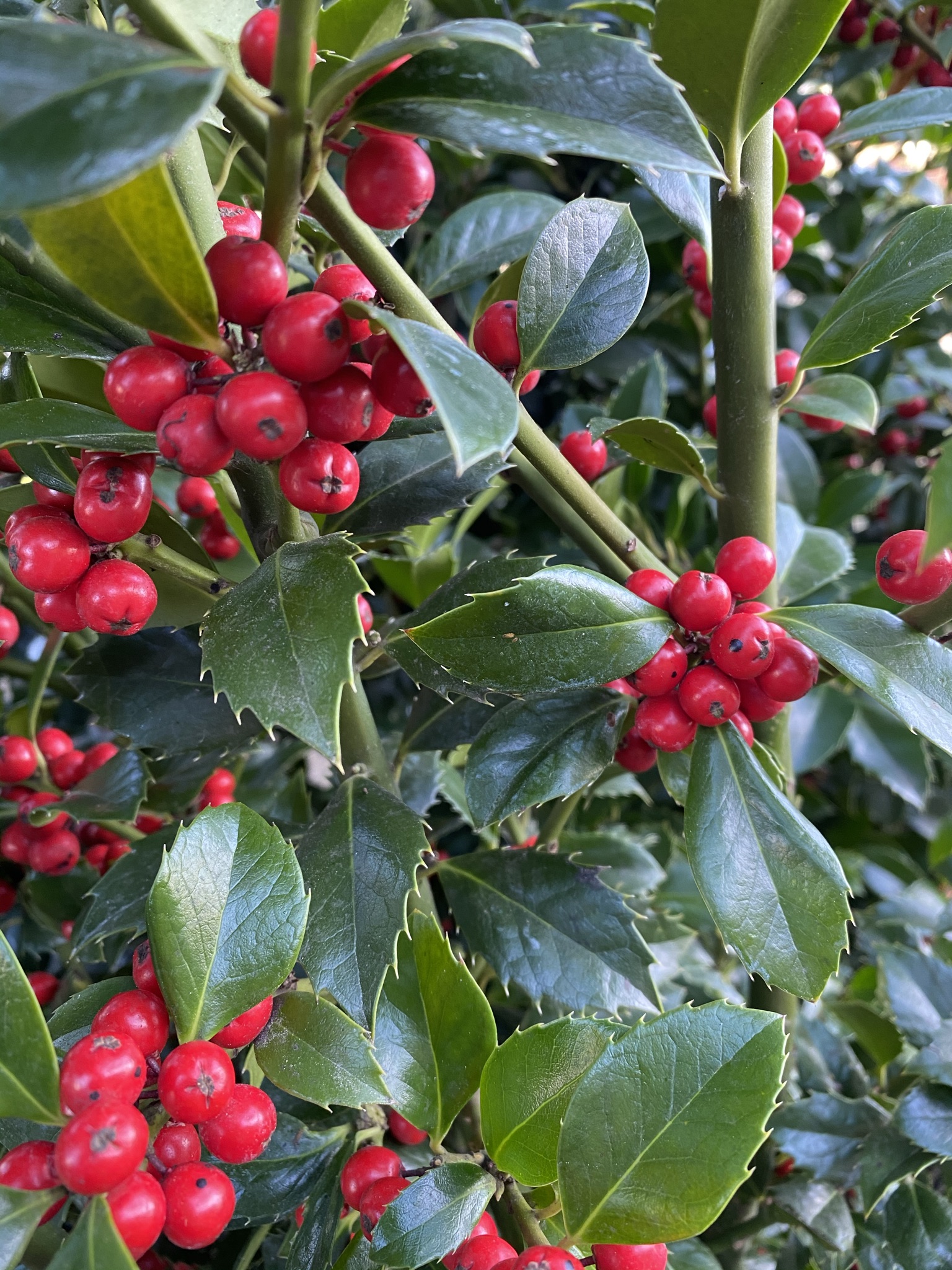 The next Christmas classic is mistletoe (Viscum album), which much like holly is most often thought of during the festive period. Mistletoe is also an evergreen shrub, but grows as a parasitic plant that lives off the nutrients and water provided by the host tree. The tradition of kissing under the mistletoe links back to Celtic association with fertility and Norse mythology. It is considered bad luck to not accept a kiss under the mistletoe – so best to watch who you are standing next to at the Christmas party!
Our in house discussions and recent research have sparked lots of interesting discussion amongst the team. A list of our agreed favourite species for winter interest are noted below:
Trees – Acer griseum, Prunus serrula 'Tibetica';
Evergreen Shrubs – Sarcococca confuse, Garrya elliptica;
Winter Flowering Shrubs – Hamamelis x intermedia 'Arnold Promise', Chimonanthus praecox 'Grandiflorus';
Architectural Shrubs – Corylus avellana 'Contorta', Mahonia media 'Winter Sun';
Herbaceous Perennials (colour) – Helleborous nigra, Cyclamen coum, Eranthis hyemalis;
Herbaceous Perennials (structure) – Phlomis russeliana, Dipsacus fullonum, Euphorbia characias subsp wulfenii;
Ornamental Grasses – Callamagrostis x acutiflora 'Karl Foerster', Carex oshimensis 'Everest';
Evergreen/Semi Evergreen Ferns – Asplenium scolopendrium 'Crispum', Polystichum setiferum 'Herrenhausen';
Bulbs – Galanthus nivalis.


Some of the team have been out and about exploring the wilderness, and express below some of their favourite species :-
Ros Southern:
Beech hedging is a wonderful winter plant. It keeps its autumnal coppery coloured leaves right through the winter until the fresh, vibrant green spring leaves push through, forcing the crinkly old ones to drop. This means that even though it's a deciduous British native it's really functional for tall privacy screening, plus it's brilliant as a wind baffle as it's semi permeable. It can even be clipped into shapes like arches or angled tops. It's happy to grow in sunshine or semi shade near mature trees, doesn't mind the cold clay soils we have in the North East, and is a wonderful refuge for wildlife offering hidden bird nesting and shelter for hedgehogs at ground level. All it needs is a trim in August after the bird nests are empty, and it lives for years.
Ros' rose is still flowering in December!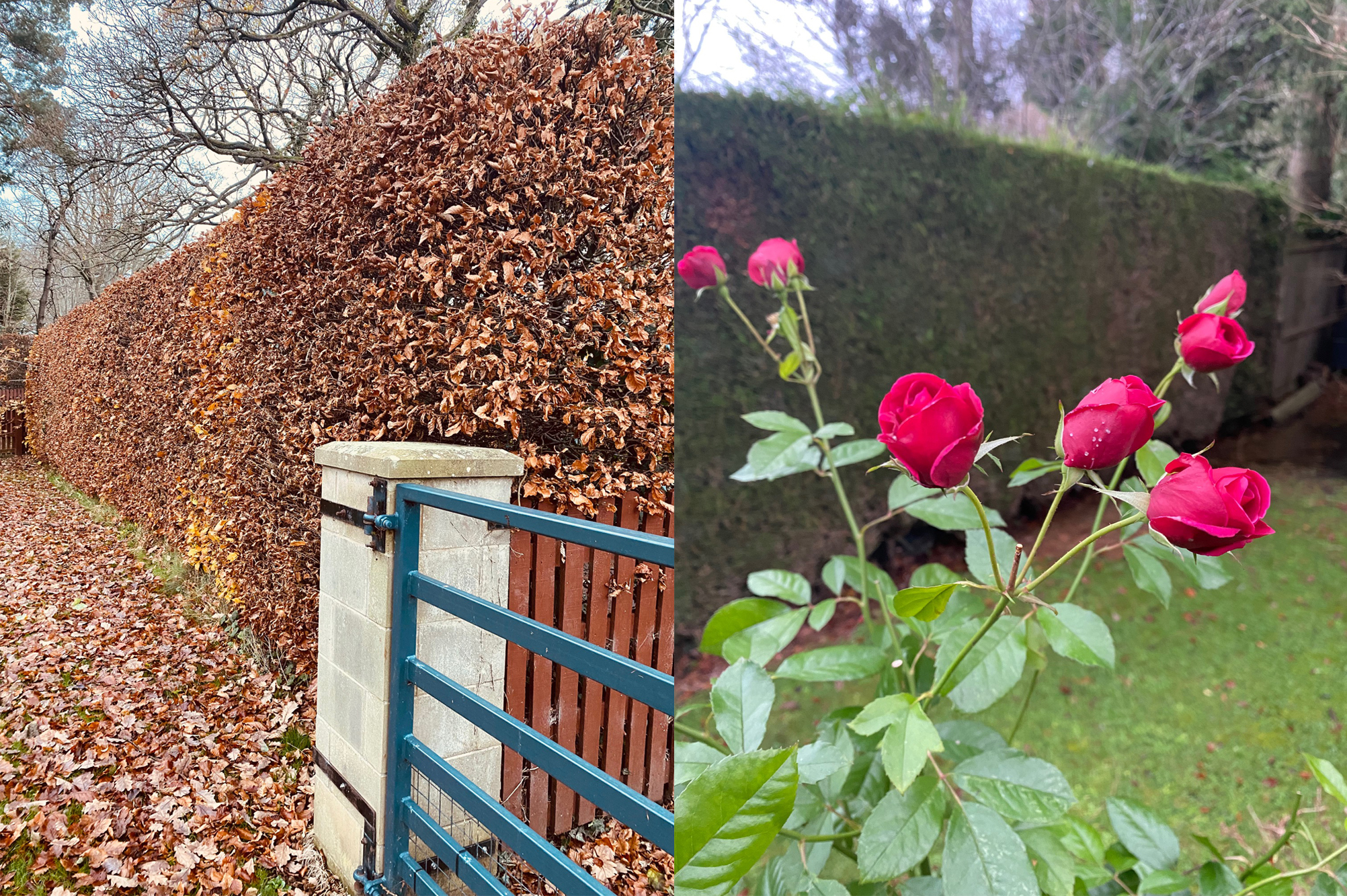 Sharon Lumb:
A couple of my favourite winter plants are:
Cornus sanguinea 'Midwinter Fire' – Dogwood
Hamamelis mollis – Witch Hazel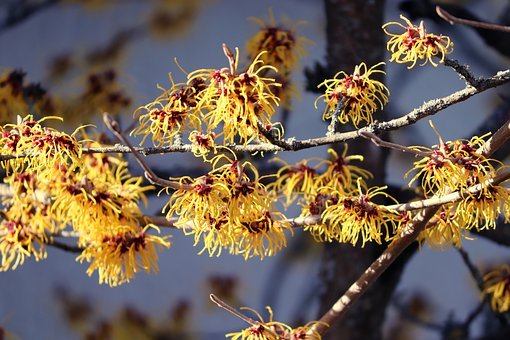 (Picture sourced from web)
Simon Green:
Here a small selection of pictures from Simon's farm, where the winter silhouettes of the hedgerow trees offer dramatic views across the countryside in Durham.


For more information on the best plants for winter interest here are some useful links:
https://www.rhs.org.uk/plants/for-places/winter-interest
https://www.botanic.cam.ac.uk/the-garden/gardens-plantings/winter-garden/top-10-plants-for-winter-interest/
https://www.gardenia.net/guide/create-a-garden-with-great-winter-interest